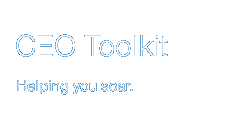 Michele O. Evans
President
Evans Chaffee Construction Group, Inc.
"It is great to know that other businesses have the same problems and to learn how they have solved them or how they would sove them. Even issues that are not my own inevitably hit home and help me become a better business owner I would highly recomment TAB to any business owner that wants to improve their personal and professional life."
The CEO Toolkit
From Good to Great...
A great carpenter would never attempt to build a beautiful mansion without the right tools. 
Great Business Leaders are no different.
Every Great Entrepreneurial Master knows the importance of having access to the Tools necessary to run a spectacular business.   Some of the most popular Tools in our ToolKit include those listed below. Be sure to scroll down to select which tools you'd like to receive.
1.  The TAB Business Vantage®
This comprehensive on-line diagnostic tool is an Operational Balance Sheet that will help you prioritize the best areas to work on in order to gain maximum value from your investment of time and resources.   
2.  The Up Front Contract (UFC)
If you don't know where you are going, any path will get you there (or not!)
Discover where are you and where do you WANT to be using the UFC. 
3.  Pocket Vision™
Why are you in business? The Pocket Vision is a supremely confidential document that contains the goals, dreams and lifestyle that you want in return for successfully running a business.  It is an essential component for a private business owner to produce an extraordinary Work-Life Balance.
4.  Managing for Success Personal Style Analysis
This personal style analysis is used for hiring, placement and promotion by many Fortune 500 organizations.  It will help you identify blind spots in your management and communication style and can be used to become a better leader.
5.  The Seven Questions
An annual look at what you are trying to accomplish in your company, and what changes should be made in order to reach your objectives. 
6.  Strategic Driving Force (SDF)
SDF is a powerful tool to focus your efforts, to clarify your direction, and to guide your decision-making regarding business development. 
7.  Core Values
What makes your company tick?  When faced with a decision, do your employees know how they are expected to behave towards all your stakeholders?  Clear Core Values boost morale, motivation, pride AND profits. 
8.  Strategic Business Leadership® (SBL)
Experts agree.  The single most important factor in achieving private business success is a written business plan.  SBL the most powerful Operational Planning Tool available today for owner managed companies. 
9.  Unique Selling Proposition
Every successful business owner must provide a reason for customers to do business with their company instead of a competitor.  The USP will allow you to differentiate you from all competitors.
10.  UnCommon Sense© Sales Force Upgrade
Sales are the lifeblood of your company.  In order maintain consistent, sustainable long-term Sales, a business must imbed three congruent processes -- Sales, Sales Management and Sales Recruiting.  In addition to improving both your top and bottom lines, establishment of these processes will dramatically improve the valuation and scalability of your organization. 

11.  The Financial Scorecard (ZFS)
The Financial Scorecard is a sophisticated, yet easy-to-use software and reporting resource that will transform your organization's complex financial data into a simple and usable DECISION MAKING tool.  Use ZFS on a recurrent basis to measure overall financial health and to make adjustments to improve it. 
                 
12.  The Alternative Board® BOSS (Business Owner Success Series) Events
The Alternative Board® is an international organization comprised of thousands of companies and hundreds of facilitators.  BOSS Events are an opportunity to learn to grow from the most exceptional experts and to meet and network with the most successful business owners in Central Texas.
ALIGNMENT is the side-by-side working relationship that makes great results a daily reality for both Key Decision Makers and Direct Reports. The Alignment Factor™ is a comprehensive training program from TAB Boards International that helps Direct Reports get and stay on the same page with the Key Decision Maker.
Order the following CEO Tools