H. Cravey
COO
Four Hands Imports
"You guys rock!!!"
Strategic Planning
Failing to Plan is Planning to Fail…
Business Owners Need a SIMPLE Process to Create Focus.
Strategic Business Leadership® (SBL)
Strategic Business Leadership® is an easy-to-use, personal and business planning process developed to meet the needs of the time-constrained small business owner.  By helping owners lead their companies strategically and proactively, instead of by the "idea of the week," SBL enables owners to achieve their personal and business visions of success.
SBL Planning—Think of a Bicycle
The Front Wheel
The Front Wheel provides the direction of where you want your life to go.  This is represented in how you want to live your life and the impact your business has on your life.  By clearly identifying your dreams, your will learn to apply strategic thinking in planning the lifestyle you want to live and achieving personal success.  The front wheel is your road map to getting the most out of what you desire in life.
Because your personal life and business life inevitably interconnect, it is important to have an established vision that separates the two.
Through the SBL planning process, you will define your personal vision by answering questions such as:
What involvements with your business give you the most pleasure?
What are the involvements with your company for which you have outstanding aptitude?
What activities can you do inside your company that have the potential to bring "Big Picture" impact?
How much time do you want to spend working at your business during a typical week?
The Rear Wheel
The Rear Wheel is where the power to move forward starts, just like in your business.  The rear wheel process will help you transfer the information—ideas and goals from you and your top management—into a written, practical, executable business plan.  You will learn how to follow this plan, to keep it updated and to maximize success in your business.
The objective of the rear wheel process is to give your company the following results:
Demystifies the strategic planning process in a manner that is easy to use and understand.
Provides all your employees with the same clear picture of the strategic direction of your company and its vision.
Provides your company and all employees with a better focus on the desired direction for resources, time and efforts—and prevents fragmentation on lower priority issues
Enhances expression of every employee's best thinking as it relates to helping your business succeed.
Provides new insight into your business and possible change of direction for your company.
Five simple steps for each wheel keep it Practical for the Time-Pressed Business Owner.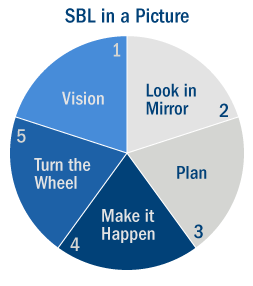 Take the Next Step with SBL Today
You can feel more in control of where you business is headed and how it can serve your purposes more effectively by starting Strategic Business Leadership®.  Call ZThree today to learn how thousands of business owners have taken their businesses to the next level with the help of this convenient strategic planning process.
"I have been thinking more of the future than before.  My business is not much plugging from day-to-day.  SBL has caused me to spend time thinking about where I am and where I want to be going.  I can't say for sure exactly how this happened, by my accounting services have never been in such demand…"
--President of an Accounting Firm