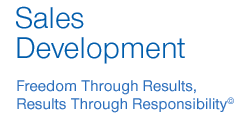 Christine Beasley
General Manager
ThermoEpsilon
"Your UnCommon Sense approach has transformed our Sales Force from mediocrity to excellence. This changed our bottom line from ugly red numbers to BIG black ones. I'm a believer!"
Sales Management
Is your Sales Manager able to maximize the performance of your Team?
Is your Sales Manager able to execute your strategies and drive consistent results?
Why do you need an effective Sales Management Process?
Are your salespeople being held accountable for their forecasts and results?
Are your forecasts accurate and is your sales pipeline sustainable?
Do you have a successful and consistent sales organization—are they performing with Excellence?
Any Team is only as good as its LEADER.  Many sales organizations overlook this simple fact.  Many others seem to understand it, but do not know what to do about it.
"If the Coach is organized, everything falls into place.  If he has self-discipline, the team has discipline.  If he's dedicated, the Team is dedicated.  Everything revolves around the head coach.  He's the one who has to make the team go" – Ray Nitschke
There is NO MAGIC to Successful Sales Management.  Successful Sales Managers share competencies, attitudes and processes that lesser managers do not possess.  The coach, player and playbook must both be correct, effective and congruent.   If they are, the Team Will WIN.
Sales Management Assessment
Z/Three can provide the tools necessary to evaluate your current sales managers. As with Sales Assessments, the Manager Assessment results are also designed to be read by your employees.  The evaluation reveals a detailed analysis of strengths and weaknesses, examples of how they may affect the Sales Manager's behavior, and specific directions regarding how to overcome weaknesses.   The evaluations also have the capacity to provide an owner with information regarding the Priorities of the manager, allowing adjustments to be made to ensure executive alignment.
In order for training to be effective you must provide the right training to the right people.  Z3 evaluations suggest who to train, how much training to provide, the required content and the appropriate expectations for growth.
The UnCommon Sense© Sales Management Process
An effective Sales Management process must include all of the ingredients required to grow a Team that can produce consistent revenue and margins.  An effective manager must know how to recruit, develop, coach, motivate, and hold salespeople accountable.   The process must also be time-efficient and must include effective tools for tracking, developing and forecasting.  Salespeople must spend the majority of their time SELLING, not talking with their manager.   If you feel that your Manager or Team may be lacking in any of these key areas, raise your expectations and call Z/Three today and about the UnCommon Sense© Sales Management Process.
The Z/Three Formula for Sales Success includes the three congruent processes that are essential to upgrade and sustain long-term health and growth in your sales organization.   These are the UnCommon Sense© Sales, Sales Management, and Sales Recruiting Processes.