June 15th, 2010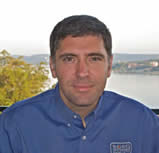 Christophe S. Borg, CEO
BorgSolutions, Inc.


Christophe Borg is co-founder, CEO and Chairman of BorgSolutions, Inc. Chris is a 15 year veteran of the IT industry where he has worked as director of IT since 1994 in various companies including PCOrder, Inc., Trilogy, and MessageOnce, Inc. (later acquired by Dell).  In 2003, Chris co-founded BorgSolutions to fill the fleet industry's need for an integrated fleet management and telematics solution. 
BorgSolutions' primary focus is on business process automation, in specific to the automation of fleet administrative management with regards to maintenance and management.  With customers in the United States, Puerto Rico, Latin America, Europe and the Middle East, BorgSolutions has proven that a global minded multi-lingual platform can be successful in streamlining fleets irrelevant of its location.
BorgSolutions is the leading provider of fleet management solutions that effectively reduce operating, labor and other costs for construction, oil & gas, fleet rental and transportation companies.  Its flagship platform, BorgFleet, empowers customers to easily manage all aspects of their fleet's operations, and utilizes real-time data analytics for predictive maintenance and repair scheduling, parts, inventory and fuel management, and various otherwise time-intensive, costly tasks. BorgSolutions has been recognized in multiple articles including:
"Throughout my career, I have worked in the high tech industry from software developer, to CIO, and now CEO at BorgSolutions. Those experiences have given me a deep understanding of what it takes for a product to be successful, from an engineering standpoint and from a business standpoint. Defining and managing those requirements for businesses to grow, is what I enjoy and where I excel. At BorgSolutions we are proud of having grown the business organically without using VCs, and of our strong customer base.  
Joining TAB has allowed me to meet many successful business owners and share with them questions and issues that only business owners understand. We collectively solve difficult problems. TAB has also brought a bit of sanity to my work."
                                                                                                                                              -Christophe S. Borg
Bookmark the CEO Success Blog!